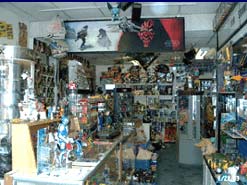 Included a pile of new entries into the Mego Museum Vintage Toy Store Directory, thanks to the many contributions of our readers. Do you have a comic or toy haunt that's not on there? Please tell us about using the form at the bottom of the page.
Ever wonder what an original case of Mego Doctor Who figures looks like?, thanks to this amazing find oby Stefano, you need not wonder.
In the custom department, Don made this neat Warduke from Dungeons and Dragons, I wish Mego had stuck around to do toys like this......
Other neat items
We've got first pictures of the Iron Man suit from the upcoming movie on the boards, looks killer.
Scott has added another Blog entry over at his Dida Displays website giving another look into this very cool project.