Hey everyone! Our deadline of May 20th is fast approaching.

We are excited and proud to confirm that former Mego R&D employees Harvey Zelman and Tory Mucaro will be on our panel evaluating and offering their insight on submissions.

The catalog lineup will be announced May 21st. The selected submissions
will be displayed and photographed at Megomeet so remember to make sure you give yourself enough time to get them mailed to me by May 30th. After that, they might not make the event. (June 6-7)

Everyone who has submitted should contact me for a shipping address. You can ship them whenever you want, just make sure they are in my hands no later than May 30th.

Remember to make sure there is a note in that that gives all the information on the figures, and on who you are, complete with return address. Also remember, you are responsible for return postage, so you might want to toss in an MO, or cash or something that will cover the return trip.

Not exactly sure when the catalog will be complete, but we plan on locking Scott up in the Museum basement until he completes his task.

Check out all the submissions in the

1978 Forum.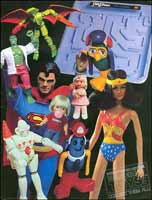 At World's Greatest Toys Benjamin is showcasing
images from the 1979 Mego Annual Report
, if you don't click there and check it out you lose your status as a Mego Collector. That's right, we're pulling your union card, we can do that.