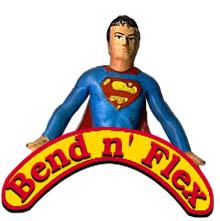 In 1974, after riding high with the initial launch of

World's Greatest Superheroes

line, Mego sought to expand the toy license further with new products.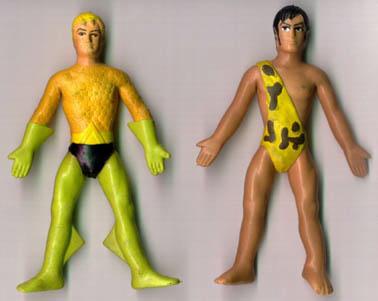 The first such items were the Super Softies (a series of plush heroes) and the Bend N Flex line.
While the Supersofties were a flop, the Bend N Flex Line sold very well, the late Neal Kublan attributed this to two factors "Their price and the smaller size, that was really the key factor I think." he said in a 2004 interview.
It's not surprising since the Bend N' Flex line retailed for under a dollar (at many locations they were $0.79) and featured the same colorful packaging art as their 8" counterparts.
The Assortment was also a big factor, Mego went all out and produced a Bendy counterpart to each 8" Worlds Greatest Superhero they produced at the time, 16 in total, 8 heroes, 5 Bad guys and 3 Super gals.

Packaging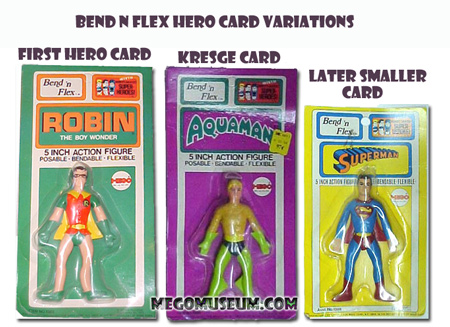 The first wave consisted only of the eight male heroes, they came packaged on a tall card very similiar to the Kresge Card, in fact, there is a Kresge version of this packaging. Early Spiderman packaging has him mingling with the DC heroes, this was quickly corrected.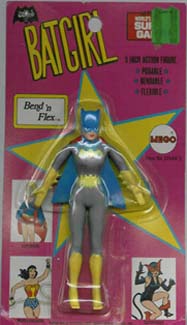 The second series which introduced the villains and Supergals, came on shorter cards that had improved graphics, the 8 male heroes were reissued on the "Short cards", it is not know which is more valuable.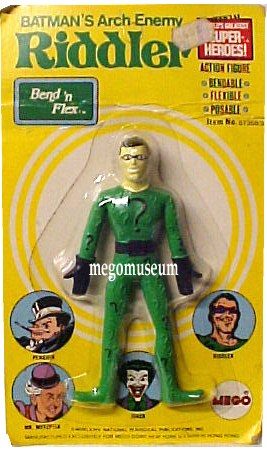 In terms of rarity, the most commonly found MOC figures are Mr. Mxyzptlk and Tarzan, while the Supergals and Riddler especially would be among the most difficult to find.
While the line was sold internationally, no foreign packaging variants have ever arisen. The 1974 Mego Catalog shows a carry case for the Bend N Flex line but it was never produced. It is largely believe that Mego did create display boxes for the Bend N Flex line as they did for the Planet of the Apes series but non have surfaced.
Over the years, the Batman Bendy has seen a couple of reissues, starting with Australia in the late eighties but recently a black movie version has popped up in Africa. It seems to suggest that figures mold is still out there to this day.....
Custom of the Day
Todd unveiled this cool 70's looking Doctor Strange today, I'm loving the suit.