I am very pleased to make the following announcement for two reasons: 1) I'm honored to be the first to "spill the beans," so to speak, on this great project and; 2) I have been keeping the secret far too long.

By 2007, the Mego community will have something very special to add to their collections… a long desired item that will immortalize our hobby.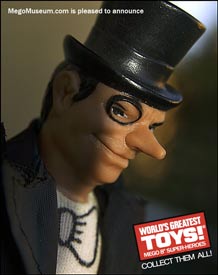 "World's Greatest Toys: Mego 8" Super-Heroes" is a large-format, full color (coffee-table style) book nearing completion and publication. In vivid four-color fashion, the
Mego
story comes to life.
The author behind all of this is one of our own, Benjamin Holcomb (imp), who has been behind the scenes, quietly devoting hundreds of hours to researching, photographing, and writing about our beloved collectibles.
"World's Greatest Toys" is a love letter to the toy line that truly made Mego special, the World's Greatest Super-Heroes. It is an exacting opus, chronologically documenting the origins, variations, packaging, and memories of the WGSH in a way never previously attempted.
In writing this book, it would be understatement to call Benjamin thorough. Through first hand interviews, secondary sources and painstaking persistence, all the facts (and none of the fiction) about Mego and the
WGSH
are presented. The pages are packed with literally thousands of photos of loose and packaged Megos, as well as the most comprehensive checklist ever, of all known packaging variations.
Three years in the making, and now in the final stretches before publishing this exhaustive study, Benjamin finally allowed me to make this announcement in advance of Mego Meet. Benjamin will reveal more about "World's Greatest Toys: Mego 8" Super-Heroes" to those attending Mego Meet and will present full-color preview chapters.
Benjamin would love our participation and is actively looking for certain items to photograph, for inclusion in the book. He'll be posting his wish list shortly. If you have what he's looking for, and are attending
Mego Meet
,
Please, I urge you to bring it to a special photo session occurring at Mego Meet.
Please check out the new
Worlds Greatest Toys Forum
on the Mego Museum and stay tuned for a secondary announcement today.