It's only fitting that we unveil our new
Mego Museum Teen Titans trading cards
on a long weekend. Really cool, hope you enjoy.
One week until
MegoMeet.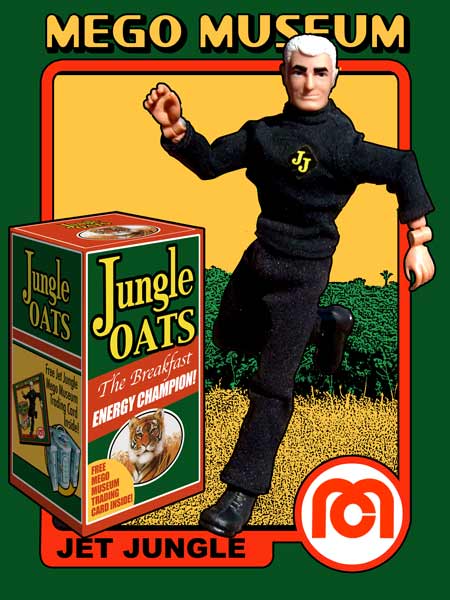 If you're sitting on the fence, here are some Reasons to attend:
Custom Contest:
This year, the Custom Figure Contest will have three categories, with one winner in each:
Comic Books and Cartoons
- Heroes, Villains, and Supporting Characters
Live-action Media
- Movies, Television, and Real People
Fantasy
- Original Characters, Legend, and Literature

To enter, you must either submit your custom in person, or have representative there who is responsible for the submission, as well as any prizes won. Information on where to submit your custom work for judging will be available in the MegoMeet Dealer's Area
Winners will be announced just before the CustoMego Q&A Session at 2:45 PM
Benjamin "Imp"Holcombe, the author of the forthcoming collector's book "World's Greatest Toys: Mego 8" Super-Heroes" will hold a Question & Answer session at 11:30AM. Mr. Holcombe has also graciously offered to showcase at MegoMeet 2006 some of the layouts that will be featured in his upcoming work, and we encourage everyone to come see this piece of Mego History in the making.
Trading Card Raffle
Do you collect and trade the free Mego Musuem Trading Cards? Well now there is a great way to not only help sponsor the creation of these cards, and also win fabulous prizes at the same time. The first ever Mego Museum Trading Card Raffle will be held this year at MegoMeet 2006! Prizes include a Mint on Card Star Trek Andorian, CTVT Pirates, a MegoStore.com Gift Certificate, CTVT figures, an uncut sheet of Wave 5 of the Mego Museum Collector Card series, & much more! Be sure to get your $5 tickets from Brian 'Palitoy' Heiler here in the MegoMeet Dealers Room!
Exclusive Jet Jungle Figure
Last year the Mego Community was stunned by a newly discovered MIB Mego World's Greatest Super Heroes figure out of South Africa: Jet Jungle – The Fittest Man in the World! Previously unknown to collectors, the knowledge of this figure soon spread so that within mere days other loose Jet Jungle figures were identified. For more info on Jet Jungle, his history, and his sponsor "Jungle Oats", see J.J.'s page in the WGSH section of the Mego Museum.
Created as an exclusive reproduction for MegoMeet 2006 by Museum members Chris "ChrisDVM" Johnson, Mike "mego73" Rogers, and Jess "MegomanJess" Cameron, this figure is made with of a blend of vintage and reproduction parts, and will be available for purchase in the MegoMeet Dealer's Area. This figure is available only at MegoMeet 2006. Quantities are extremely limited, so make sure you pick yours up before they're all gone!

Exclusive Jet Jungle Card


Earlier this year, the Mego Museum folks created two cards of vintage Mego figures as a free promotional item to raise awareness of the Museum, and Mego collecting in general. No one realized the incredible response that these cards would generate, and thus was a series of cards born.
Created exclusively for MegoMeet 2006 by the fine folks at the Mego Museum is this card features one of the most recent and spectacular discoveries in all of Mego Collecting: Jet Jungle! This card is #38 in the Mego Museum Collector's Card series, and best of all: It's absolutely free! Be sure to pick one up in the MegoMeet Dealer's area.