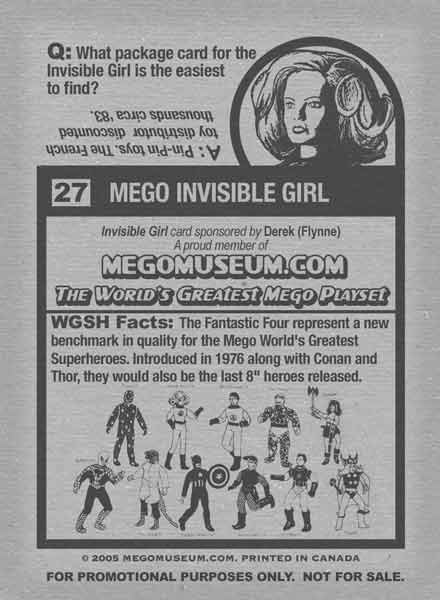 It's no surprise as to who our
trading card reveal of the day
is but it is still a very cool and original looking card. Tomorrow we'll reveal another amazing card, one each day until
Mego Meet.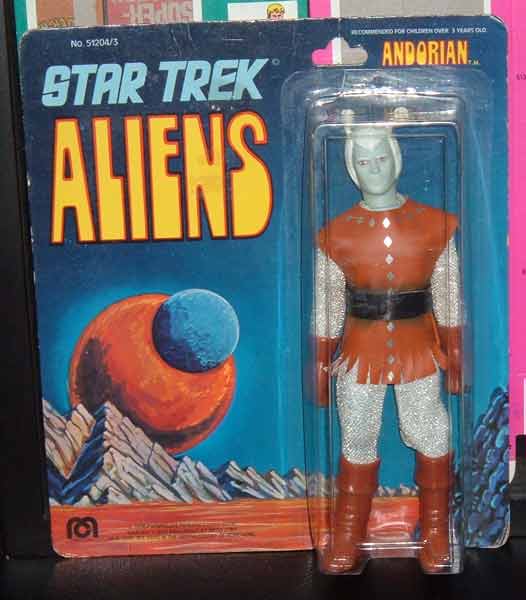 Speaking of Mego Meet, we're ready to kick off the amazing
Mego Meet Raffle today
. We're allowing non attendees to buy tix for one week prior to win fabulous prizes such as a Carded Andorian and Human Torch.
Click Here for Details.
More Mego Meet
Here is the MegoMeet Schedule (courtesy of Derek)


09:30 AM - Brian "Palitoy" Heiler: Mego What Ifs / Never Was – Come join the Mego Museum's own "Virtual Curator" as he tells of proposed projects & prototypes of what might have been during the heydays of the late 70's, as well as if Mego Corp remained in business in the early 80's.

10:30 AM - Chris "ChrisDVM" Johnson: Mego Small: Non Comic 3 ¾ " Action Heroes – Though the Super Heroes lines were the most popular offerings, Mego produced several other lines of 3 ¾ figures of such lines as "Star Trek", "The Black Hole", "Buck Rogers", "CHiPs", and more.

11:30 AM – Book Preview: "World's Greatest Toys", by Benajmin "Imp" Holcomb – Join us for an exclusive Q&A session with the author of this forthcoming book exclusively devoted to Mego's "World's Greatest Super Heroes" line, including previews of page layouts. Don't miss this one!

12:00 PM – Group Photo Shoot – Please join us in the lobby for a photo shoot of all attendees.

12:15 PM- Lunch Break

01:15 PM - Ray "AcroRay" Miller: Micronauts – If you missed Ray's seminar at MegoCon in 2004, now is your chance to have Ray answer your Micronaut related questions. You'll also have a chance to see some of Ray's impressive Micronauts collection on display here at MegoMeet.

02:00 PM – - Brian "Palitoy" Heiler: Foreign Megos – In addition to his considerable duties at the Mego Musuem, Brian is also runs "Palitoy's Foreign Mego Archive". Come join this informative chat and learn about the foreign offerings from Harbert, PinPin, Lily Ledy & more!

02:45 PM – Winners of the MegoMeet 2006 Custom Figure Contest Announced

03:00 PM – Mego Custom Q&A – Always wanted to know more about how to make your own customized Megos? Now is your chance to get tips and learn the tricks of some of the World's Greatest Mego Customizers. If you customize, be sure you grab a seat for this one.

04:00 PM – General Mego Q&A – Collected here at MegoMeet you will find some of the most knowledgeable people in Mego Collecting. If you have a question about anything and everything Mego related, this is your session! Come to learn, or share your own knowledge.

05:30 PM – Event ends at the Museum