Saturday morning came pretty quickly and I had to motor if I wanted to make the first seminar of the day (I was the speaker). Lucky for me, Scott was on the ball and ready to go before me.
I got my first big break in the form Cathy, Mrs. ABMAC who volunteered to sell raffle tix during the day, I really can't thank her enough for that.

I immediately ran into Chris Johnson (DVM2) and got a great shot of the show's exclusive Jet Jungle Action figure.
Austin Hough of Reproheads.com was set up beside Chris with an array of silk screened suits including some rather obscure characters.

As I mentioned the first speaker was myself in a commentary about Mego's unproduced lines, touching on a few things I haven't yet at the Museum.
While the attendance for my seminar was better than expected, I was also very happy to see a few folks such as MegoSteve (You can read his own blog about the Mego Meet experience here) and Mike J, both were undecided about attending but at the last minute drove through the night.
Speaking of Last Minute........

A visit to the parking lot after my seminar revealed the rental van of Mark Huckabone, who made it in record time (note watch in the pic). Actually Mark had a Herculan effort of being at two shows six hours apart on the same weekend. We were honoured that he and his delightful lady friend showed up and teased us with goodies. More on the Mark offerings later but suffice to say had he not attended, I might have gone home with toll money instead of scrounging around floorboards on the I-90.

Chris Johnson kicked off the next Seminar, a detailed trip into the world of Mego's 3 3/4" lines such as Black Hole and

CHiPs

. In addition to a respectable amount of knowledge, Chris brought props! Many of the items Chris brought from his collection were extremely rare and truly added to the presentation. It was hard not to start playing with his

Buck Rogers

Landrover.......

In the Dealer's area, Mark was still setting up while others were clicking along already including Russ from Customs Lab who had an amazing amount of custom heads available.
Brian Leitner was also on hand with some very impressive custom suits and heads.

John from Type3toys, had a professional looking display of finished figures for sale, it's not hard to tell that John likes himself some Bronze Age marvel characters.
The Mego Meet Dealer's room was an incredible mix of vintage, repro and custom. Whatever your flavour was, it was likely at Mego Meet 2006.

11:30 AM saw Benjamin Holcombe unveil a never before seen look at his upcoming book World's Greatest Toys to his target audience.
Word's can't describe the combination of Ben's passionate speaking and the beautiful sneak peeks of the book. HIs photography and attention to detail are awe inspiring. Ben's presentation ran over an hour and could have gone on longer.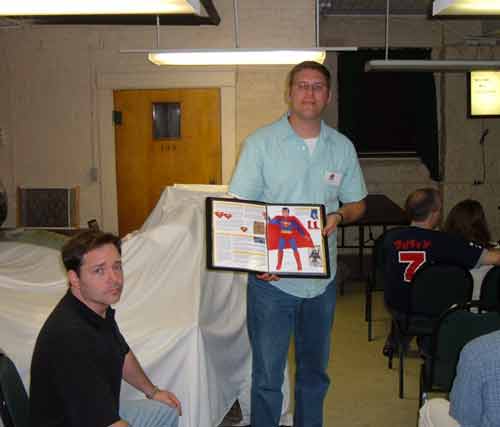 Coming soon Part 3- Micronauts, Customs Contest, What Mark Brought and the raffle announced.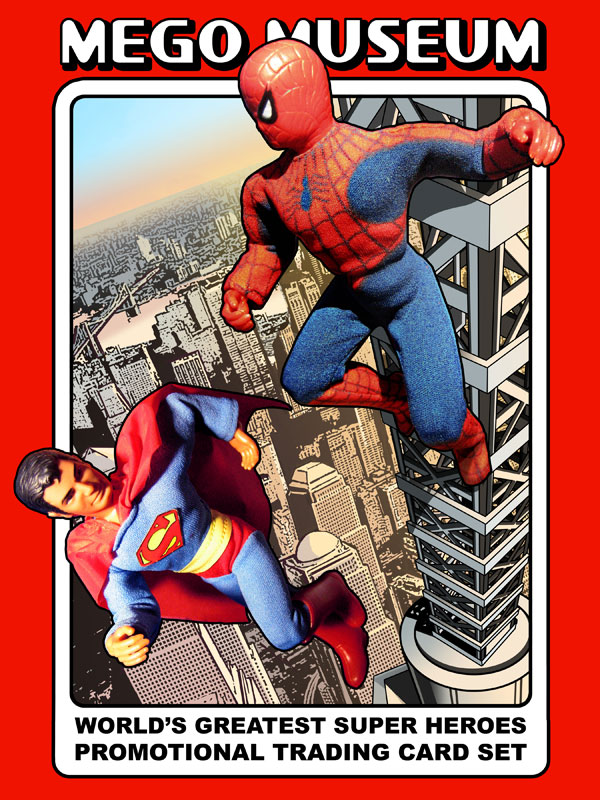 Scott unveiled this new Mego Museum Trading Card Art on Saturday morning in the form of a poster, somehow he managed to take it home as well.