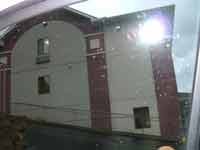 Where to begin? Well, I suppose Friday would be the best time to start. Scott and myself arrived at the Wheeling Super 8 after a lesson in Pittsburgh Traffic jams.
After taking some time to unwind we headed over to the Friday night setup get together at the Toy and Train Museum.
Friday Night Set Up

The Dealers Room was already bustling, already set up were Dr. Mego, Joe of MegoStore and Paul Clare of

Megoville

.
Roberto Ligotti and his brother Tom (who was apparantly was a superstar in helping set up) were also setting up. Roberto was in true form this year bringing plenty of original mego goodness.

Dave McCormick was working overtime in his set up making sure everything got done correctly, all the while folks were happily trading, eating pizza and catching up. Running into to so many people that you know but never met is an interesting experience.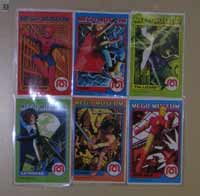 I quickly set up the raffle wall with these over sized proofs of MegoMuseum trading cards that we eventually gave away. These went so fast I never really got a to take good pics. Probably because I started chatting with Dan Crandall, Ray Miller and of course, Ben Holcomb.
After the meet closed, the gang headed towards a local sports bar and then night capped at Paul Clares suite, which was dubbed the "Mego Suite".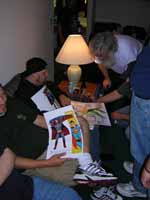 The Highlight of the night had to be "My good friend Ben" unveiling pics of his upcoming book

"World's Greatest Toys"

, seeing the loving detail of those first few pages was enough to sell everyone in the room.
Perhaps it was the long day's drive or the copious amount of heineken but I decided to pack it in for 3 am. I would soon find out that I was actually one of the first to leave......
Coming Soon Part Two- Saturday Morning.