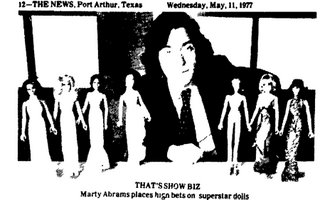 NEW YORK - If the $3 billion toy business is a "crap shoot." as Marty Abrams savs, he's on a winning streak betting that kids would rather dress a sexv superstar than change diapers " After all," says the youthful entrepreneur, "toys are cameos of our culture " So even as the dogwoods are blossoming, Abrams is launching an advertising campaign for Christmas buyers featuring - you guessed it — Farrah Fawcett-Majors and Fonzie and Cher and Tennile and other hot show biz characters While many tov manufacturers soured on the idea after the market was glutted with Batman toys in the late 1960s. Abrams has built the family business into a $70 million a-year enterprise with celebrity dolls In the past six years his Mego International Inc has climbed from about 100th on the list to seventh among the country's largest toy firms.

The only companies that really got hurt licensing ( contracting for celebrity dolls) were those that over-licensed."
Abrams said Last vear his Cher doll was the top seller in the industry. For her part Mrs Cher Bono Allman collected a cool $1 million in royalties from Mego. Abrams said But Abrams won't divulge his contract
Terms "It varies from star to star," he said "It's a crap shoot, anyway," he added.

Fawcett-Majors, as well as the others will remain at the top of the heap long enough to sell as mans dolls as she did pinup posters (five million) last fall.

"We have to keep our fingers on the pulse of pop culture." he said "I'm continually watching TV and reading the show business publications The media continually creates new fads new idols "

Abrams' instincts are reflected in his showroom 40 floors above Fifth Avenue where this season's real life stars such as Starsky and Hutch share shelf space with science fiction's King Kong, Wonder Woman and characters from Star Ti ek. Noting the boom in citizens band radios. Abrams was quick to come out w ith a line of toy trucks and microphones built around a character called CB McHaul.


There is a Diana Ross doll and Muhammad Ali, aimed at the black market.


When a star is hot she or he gets a full compliment of accessories. To dress Cher in the styIe to which she is accustomed. for example, there are 32 different costumes There is a vintage sports car with Cher's ex-husband and TV partner. Sonny Bono, at the wheel. Figuring that Farrah's sunstreaked hair is her top asset Mego has a bust of the beauty so that little girls can wash and comb her hair They may even apply lipstick and makeup and false eye lashes. "It's somewhat of a status svmbol to be a doll," Abrams said.
May 1977