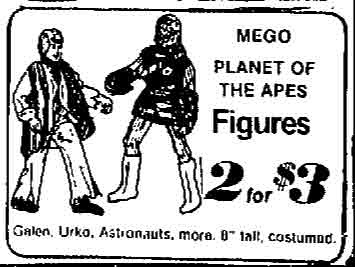 Mego A
pes on sale in an ad for Kings Department Store Portsmouth New Hampshire (October 1975)

Friday Nov 22, 1974:
As a TV series, "

Planet of the Apes

" has been a major disappointment to Fred Silverman, Program VP at CBS, but it has been a big hit in the eyes of Marty Abrams, president of Mego International. Mego is the company which manufactures those Ape toys, and so far they have made $8 million in retail sales! But how does Mego feel about the possibility of CBS cancelling "Planet of
the Apes"? "We'll get by," says Marty Abrams, "so long as they don't cancel before the Christmas toy season."