SPECTRE OF THINGS TO COME AND
A COUPLE OF BLASTS FROM THE PAST:
INTRODUCING SPECTRE TOYS

Los Angeles, CA – April 9, 2010 - On July 1st, SPECTRE TOYS will unleash its first products to awaiting collectors. Although a new company, its roots are firmly planted in a storied past. Spectre Toys is led by Rick Phares, the brains behind Majestic Studios, which was known for its innovative and eclectic toy output, such as the 12-inch "Battlestar Galactica" Cylon and the Zuni Fetish Warrior Replica from "Trilogy of Terror."
Out of the past, Spectre's first release is a series of 8-inch action figures from the original 1966-71 ABC-TV gothic horror serial, DARK SHADOWS, which was named one of TV Guide's "Top 25 Cult Shows Ever." Phares said, "The brilliance of the show sprung from its legendary creator-producer-director Dan Curtis. The first scene of the show came to him in a dream and he applied a dreamlike quality to the entire series."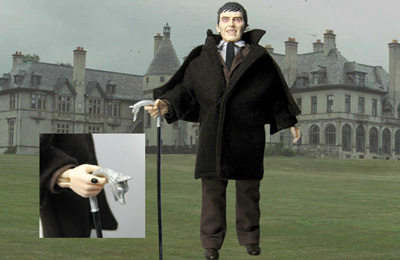 "In keeping with our retro theme," Phares continued, "our 'Dark Shadows' line will be sculpted and clothed in the '70s MEGO style. They will look exactly how 8-inch articulated figures of the day would have looked during 'Dark Shadows' initial TV run, but with just a few extra modern technical touches. We've come a long way in manufacturing since then."
Spectre Toys has partnered with EMCE Toys, the company that brought back the 8-inch classic MEGO format. Founded by pop culture entrepreneur Joe Sena and renowned expert Paul "Dr. Mego" Clarke, EMCE has "MEGO-ized" multiple classic properties such as DC Comics superheroes, "Star Trek", "The Venture Bros." and many others.
Card art for the series will be done by legendary Mego Packagaing Artist Harold Shull

"The resurgence of 'Dark Shadows' and 70s style figures have come together at the right time," Phares added. "It's been widely reported that a new 'Dark Shadows' theatrical film will be shot this fall by director Tim Burton and starring Johnny Depp as Barnabas Collins."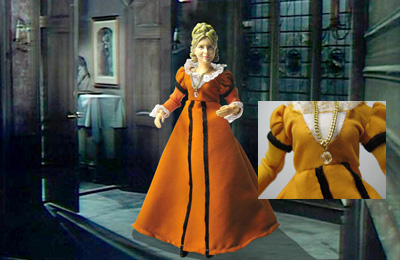 Spectre's first "Dark Shadows" release will include the brooding, 175 year old vampire Barnabas Collins and the woman who put the vampiric curse upon him - the beautiful but deadly witch Angelique. Each figure will be limited to a 3,000 piece run. The prototype for Barnabas is available for viewing now at the Spectre Toys website (www.spectretoy.com)

Soon the comic book and pop culture convention season will be in full swing. As Majestic Studios did in the past, Spectre will have a convention-exclusive figure premiering at the San Diego Comic Con, July 21st to 25th. Only 500 pieces will be available at the 'Entertainment Earth' booth at San Diego.

That exclusive will be the shape-shifting werewolf Chris Jennings, a descendant of Quentin Collins from the 1890s who was likewise afflicted with lycanthropy. (Yes, Quentin was cured and later time traveled and appeared in modern times, but that's a story for another day – or better yet, go watch the DVDs from mpihomevideo.com)


At the San Diego Comic Con, Spectre Toys will be making a few announcements regarding further "Dark Shadows" and Spectre Toys releases. Plus, attendees will meet a special surprise guest from "Dark Shadows!" Remember; make a note to look for Spectre Toys at the 'Entertainment Earth' booth. Representatives will be there to answer questions and take fan suggestions for future figures.
Samples of some of the original 1970s figures can be viewed at the Mego Museum website (

www.megomuseum.com
).

For more information about where to purchase Spectre Toys releases, go to www.spectretoy.com
Barnabus is available for PreOrder from Entertainment Earth