From: Cast-a-Way Toys HQ (Deep in the jungles of Africa)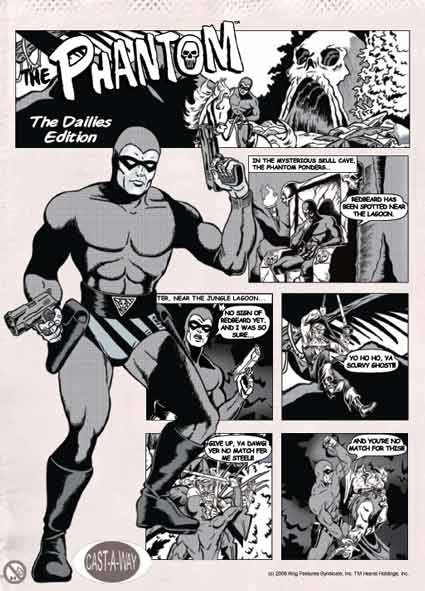 Seated on a skull throne in his headquarters in a cave resembling a human skull in the deep jungles of Africa, the Phantom can be found by those in need, but he is the nemesis of evil on land, air and sea around the world. Legends say is he is a four hundred year old man who cannot die, and to look upon his face means death.
Extra! Extra! Read all about it!
Cast-a-Way toys presents it latest variant of the Phantom who walks... From the daily pages of your favorite newspaper comes the Duo Toned Phantom or "Dalies" version! The Monochromatic version is just a painstakingly crafted as previous variations on the Ghost who walks... This Mr. Walker has the feel and look of his newsprinted counterpart and is sure to please. With new artwork by the Mego Museum's own Chris Franklin, this limited edition figure will likely go fast! If you have the "Sunday" color version of this figure you know how good it really is. You won't miss out on this one folks, like the daily print it'll be here and gone just as quickly...