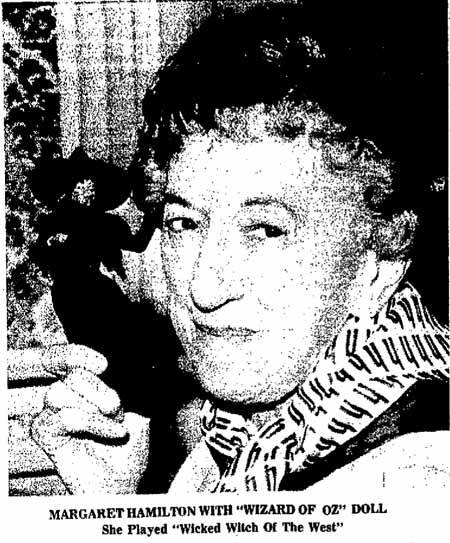 The umpteenth showing of "The Wizard of Oz," but this time the Scarecrow, the Tin Man and the Wicked Witch were in the audience as well as on the screen.
"Ding-dong the witch is dead," sang 71-year-old Ray Bolger in harmony to the music as he sat watching himself cavorting as the Scarecrow through the 1938 classic. The Wicked Witch,' Margaret Hamilton, and the Tin Man, Jack Haley, along with Bolger and "Wizard of Oz" producer Mcrvyn Le Roy turned out "Monday in the Grand Ballroom of the Waldorf Astoria to wnlch clips of the movie that has been fascinating youngsters for 40 years.
"You never get tired of this picture," Bolger said, singing along and bursting into laughter repeatedly as he watched the movie in preparation for the evening show. "There will never be four personalities like that at one time," declared LcRoy, looking at the Tin Man, the Scarecrow, the late Judy Garland as Dorothy and Bert Lahr as the Lion romping together. "Who the hell else can play a lion?" asked Haley out loud. "Only Bert Lahr," he answered himself.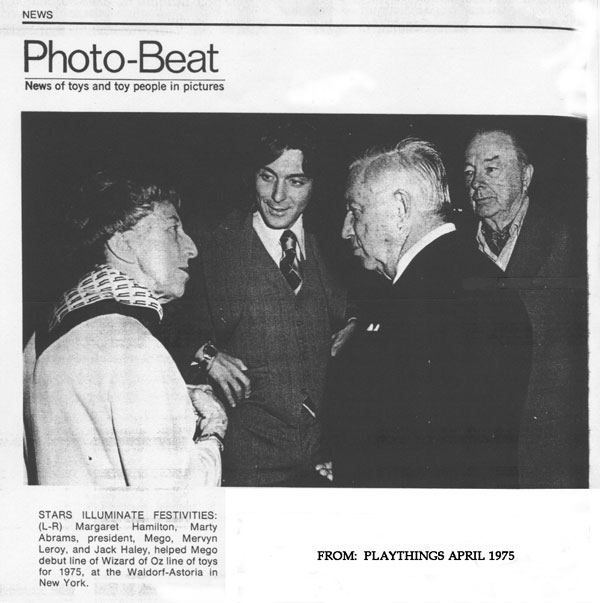 Each star has a different theory for the "Wizard of Oz" popularity. "It has the simplest philosophy of all," says Bolger. "There is no place like home. When Dorothy landed In the Land of Oz, with flowers 10 feettall, she wasn't happy, she realized she had to go home to Auntie."
For Margaret Hamilton, now 72 years old, "There's a tremendous opportunity for identification. "All of us have been through woods, all of us have had lions and tigers in our life.We've had dangers, difficulties."
"It's the fantasy, the wonderment," says Haley. "The children like to be scared and it all turns out happily."
The roles are not easily forgotten. Margaret Hamilton did the witch routine on demand recently at Emerson
College and Bolger reports he keeps running into people who remember the film as a child. Extending a limp . arm,Bolger says, "I shake hands with them —like a scarecrow".
MegoMuseum Wizard of Oz Gallery