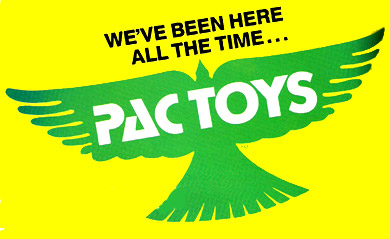 While

Mego

Corporation might have shut their physical doors in 1982, the final chapter in the history of the company was yet to come. PAC Toys was already Mego's domestic Manufacturer and it's president Joe Ruzzi worked with the Mego sales force to retain them and create a new company out of the ashes of Mego.
PAC developed new toy lines based on existing Mego Product which resulted in the "

Lords of Light

" Toyline.
Two new ventures also came of this, the most famous being "Phoenix Toys" a collaboration of Ruzzi and former Mego President Marty Abrams: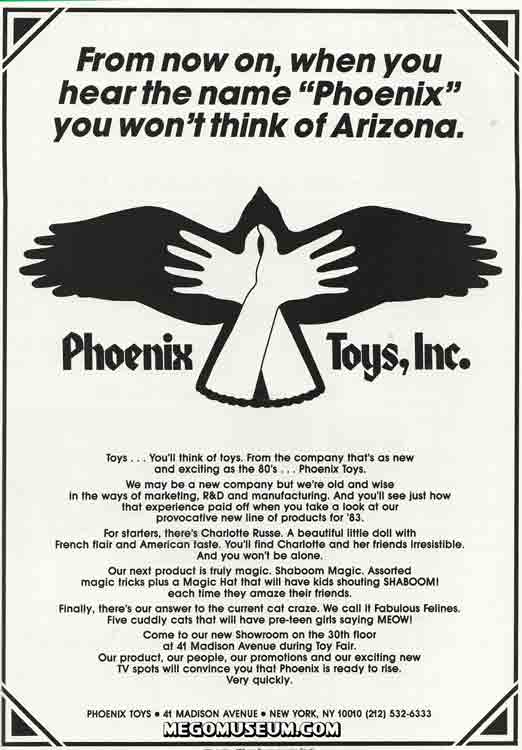 Phoenix promised the same creativity Mego had and it's big lines that year were a girl's doll line called Charlotte Rouse (similiar to Strawberry Shortcake), a series called Shaboom Magic and the Fabulous Felines, which were based on the popularity of the musical "Cats".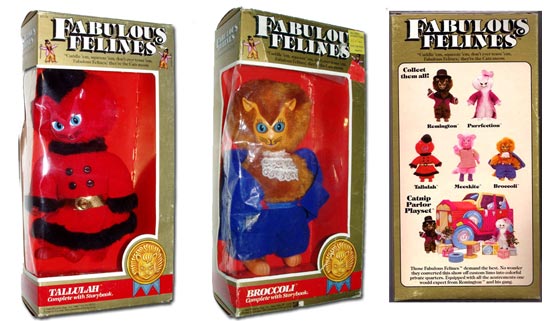 (Felines image courtesy of Laurie Halbritter)
Meanwhile, another new company was formed comprising of as Ruzzi put it "The only powers left at Mego" Mike Bauer(Sales), Pat Sirkus and financial whiz Jim Groberg. The new company was to represent PAC and handle sales and R&D for the fledging toy company. It's name was OJEM.
It's announcement was somewhat frank and functional, a far cry from the highpoint of the company's creativity.
Sadly, this second attempt to launch the World's Greatest Toy Company seemed curse as it was beset by legal problems and in June 1984, facing 3 million in debt, PAC Packaging Corp, the parent company filed for bankruptcy protection.
For more information on this period, please read PAC TOYS: A Conversation with Joe Ruzzi.