One of the terrific things about getting so many Mego collectors in one place is the willingness of so many of them to share their areas of expertise. The Megomeet seminars are a big part of the event, I'm always amazed at how quickly these things fill up.
The Morning was started with Chris Johnson giving a talk on the Mego military lines.
Chris has to be one of the leading experts on lines such as Mego's First Action Figure Fighting Yank, the

Lion Rock World War 2

line and Mego's final foray into action Figures, Eagle Force.
And wow, did he bring props! Chris's talk was peppered with his outstanding collection, the audience was able to see everything Chris was talking about.
After the break, I gave my presentation on two of my obsessions, Comic Action and Pocket Heroes. Ray Miller graciously loaned me some pieces from his collection for display.
I was blown away by the genuine interest that was generated during my talk, everybody was very receptive.
Mike Jimenez followed with an excellent piece on Mego Planet of the Apes figures. Mike knows his stuff when it comes to the Apes and his presentation was not only informative but entertaining as well.
I left Mike's session wanting to rebuild my Apes collection and began eyeing a boxed throne set on a table in the dealers room.
Around Noon we all broke for the group photo to commemorate the event.
After the short break, Derek Richardson gave one of the most attended sessions at the whole event, "Restoring and Cleaning Figures". Derek is a wizard at repairing and fixing play worn figures and folks were anxious to learn just how he does it.
This was followed by the widely attened "Customs Q & A" which featured some huge talents such as Brian Leitner, John Farley and Dave McCormick fielding questions on their techniques. This was the perfect segway into our first annual Custom Auction, in which folks donated their custom figures to the museum.
The second annual Megomeet raffle was a huge success with a staggering amount of prizes being donated this year. A nice mix of attendees and online members won this year.
After the raffle it was time for the final session of the day, Museum "Q & A" which generated some interesting feedback for the site. Then is was time to clean up, say our goodbyes and move onto Undo's for the Mego Meet dinner which was attended by about half of the day's attendees.
It dawned on me there that the show in itself is truly unique. All of the attendees could easily buy toys from Ebay but they give their time, their energy and often come halfway across the country to be a part of a community. It's humbling to watch it happen, it's not about any individual or who has what, it's about sharing the experience with a hall full of people who get it. That's what makes Megomeet a success, well that and all the work Dave McCormick puts into it every year.
As I drove home the next day, I thought about how I could help to make next year better, it's infectious! I also couldn't wait to show my son our new playset, an amazing gift from a friend.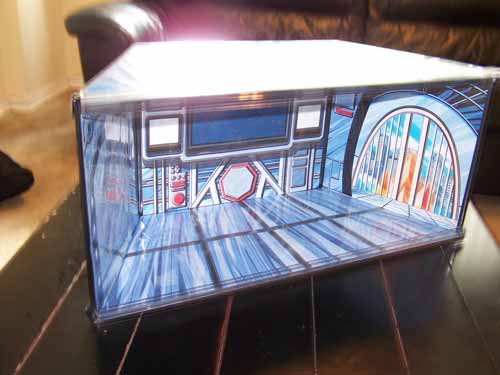 Hope to see some new faces next time at Mego Meet 2008!