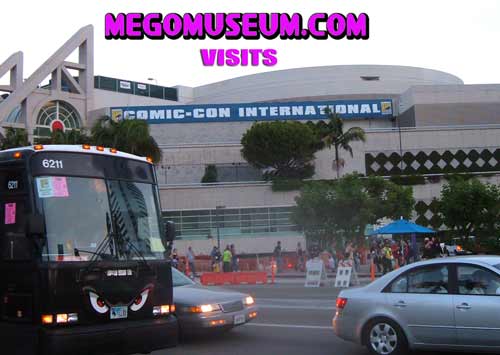 Part 2 Friday at the Con: One thing about visiting the West Coast is that you are always punctual, especially when you get up at 4:30 in the morning totally refreshed. We had plenty of time to eat and make our way down to the con.
Once we arrived, I couldn't help but notice how well the line moved and how quickly we were in. Before long, Museum founder Scott Adams tracked us down and we filled the freebie table with
Mego Museum cards
, each time either of us would "check in", the cards would be gone.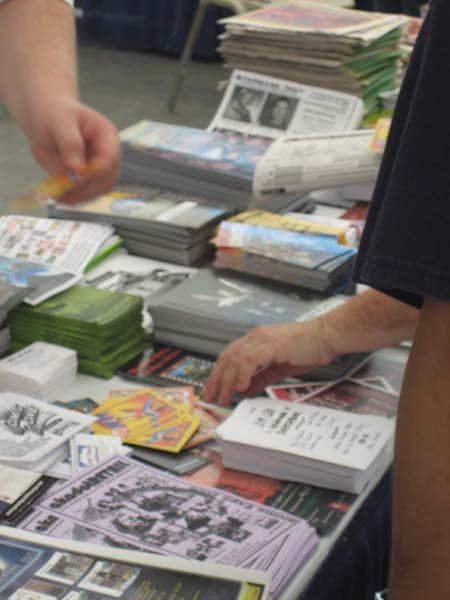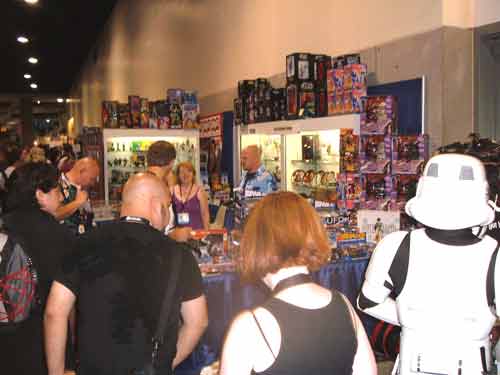 Once we entered the show floor, it was just amazing as to how big this thing was. I've been to FX, Chiller Theatre, Motor City and many other large shows but San Diego has them beat size-wise anyway. It was already a sea of people and barely half of the attendees were inside yet!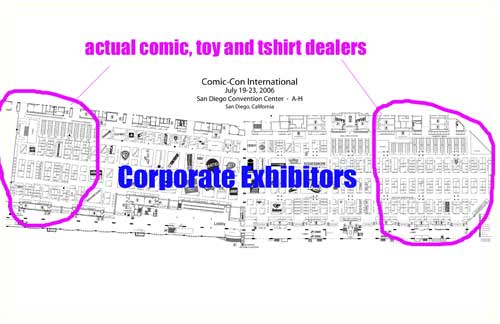 For those who have never been, the show can be easily explained. The map itself is a bit like a Mad Magazine fold in. If you remove the middle, it's a large comic show with vendors, guests and an artists alley.

But it's the middle that makes SDCC interesting, it's companies like DC, Marvel, Hasbro, Toy Biz, Spike TV, IFC, Lego,Warner Brothers, Sideshow, Image, Darkhorse and others catering to you. It's this added hoopla that makes SDCC fun.

The first order of business was tracking down a certain Mego dealer, it was a bit confused but we eventually found him. We had walked right by him on our first attempt which was strange that we didn't notice this obvious beacon.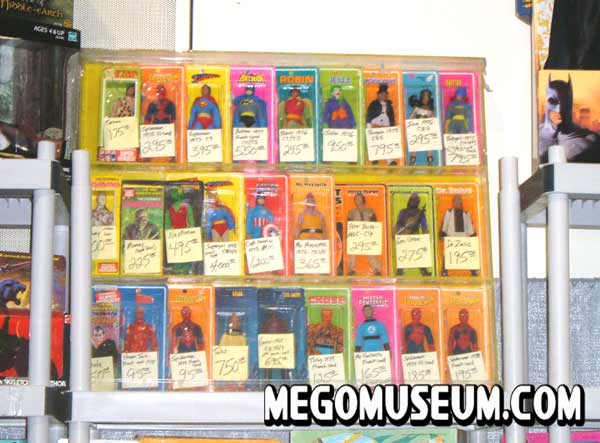 Mark Huckabone brought what only could be described as a breathtaking array of Mego, if you couldn't find something on your wantlist at this booth, you don't collect Mego! The man brought the goods! He even had a set up Wayne Foundation play set on display. Non Mego highlights included cherry MIB Creature from the Black Lagoon and carded Star Raiders!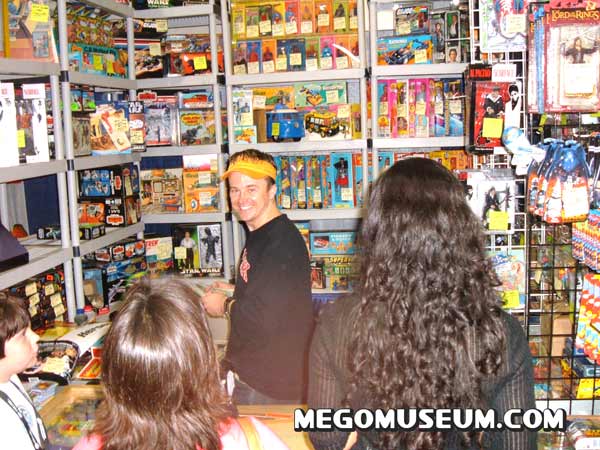 Why is this man smiling? Because he took all my money for the second time this summer. Damn he's good. Mark handed out

Megomuseum Trading Cards
for the entire weekend. I spent the rest of the show searching for

Mego

, while I found a few pieces, nobody had anything near what Mark had brought, he simply had the best vintage toy display in the building.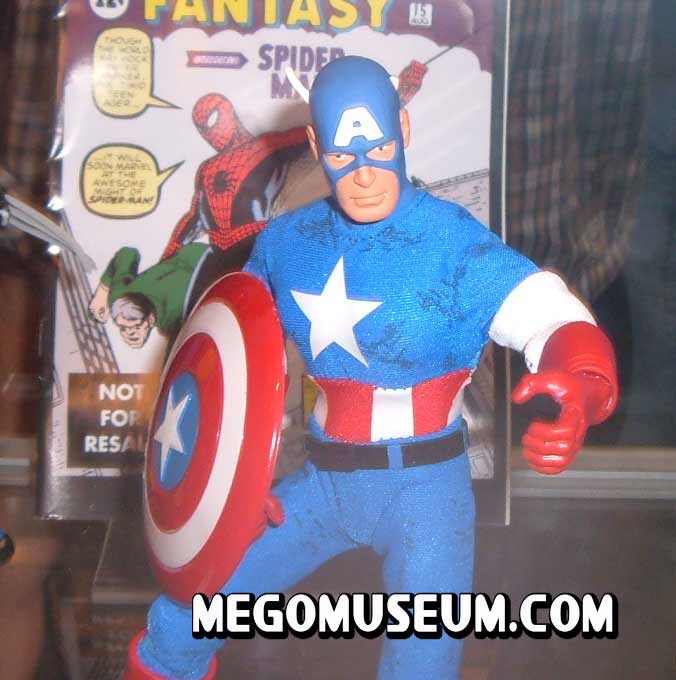 One of the busiest booths this year was Hasbro with speculation high over it's take on the Marvel name, it's not hard to see why. My particular favourites were these 9 inch Marvel heroes that use the same body as their DC Silver Age series from 1999. While I know a lot of guys are bummed these aren't 8"ers, I am pretty excited about having a
Superman
and
Spider-man
in the same scale with the same body style.
Click Here to see more pics of the Hasbro Booth.
I slunk over to the Mattel booth only to get a raffle ticket to "win" the chance to get one of their exclusive Solomon Grundy figures. I've rid my self of all forms of new toy collecting except for the JLU, they're harder to quit than smoking. It looks like 2007 will see me purchasing carton after carton of JLU, sigh!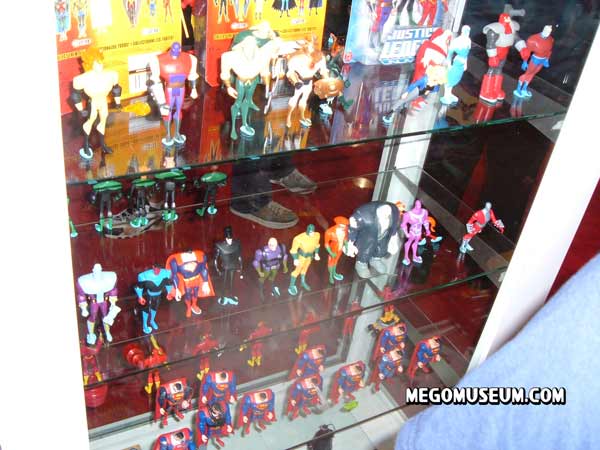 Some more cool pics from the Mattel booth, some two ups of figures I didn't even know were on their way, Supergirl as well as baddies Mongul and Parasite. Pretty Wild.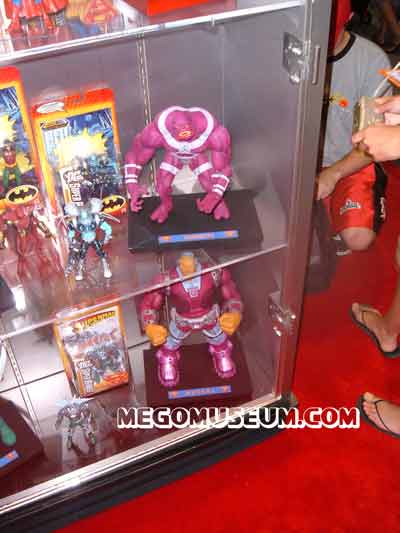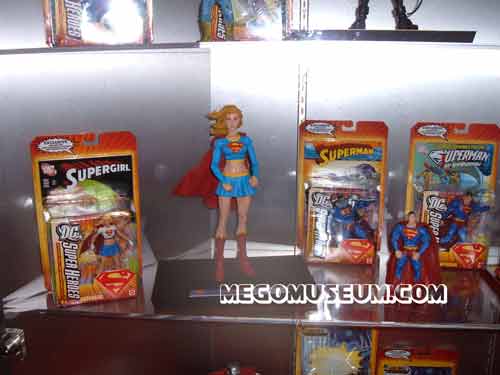 Next Up Part 3
: Superman 2, O Mighty Isis plus more.