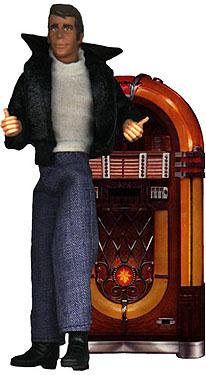 Wed., June 23,1976
"This isn't the toy business.It's show business." That approach brought Martin Abrams, 33, the flashy young entrepreneur of Mego International, a real-life fortune in make-believe. Abrarns' dolls are made in the image and likeness of television and motion picture deities such as Sonny and Cher, Muhammed Ali, the Waltons, the characters from

Star Trek

and the Wizard of Oz, as well as old established comic strip heroes like

Superman

.
Their appeal has catapaulted Mego from about 300th to sixth in return on sales in the highly competitive toy business nationwide since Abrams took over in 1971. Mego's newest offering is a 10-inch image of the current hip sensation, Henry (The Fonz) Winkler of television's "

Happy Days

."

Abrams was still in his twenties when be took over the family business and bet on his instincts, sensing that there was a vast pre-developed market among children and youth for the stars and "cult" figures of the moment
He piled one on top of the other, signing dozens of personalities for up to 5 per cent of safes, and getting the doll rights to whole shows. "We grab the top stars and pay big." said the jaunty young New Yorker.
No matter if a few should become obsolete in a hurry, like his "

Planet of the

Apes" line did when the TV show folded. He just took the bodies and put new heads on them.
His promotions include huge parties for buyers featuringthe personalities themselves. One was a 150,000 bash in the Grand Ballroom of the Waldorf-Astoria where 1,000 guests met all the surviving stars of the 'Wizard of Oz." including Scarecrow Ray Bolger and Tin Man Jack Haley.
Mego's dolls have flexible arms and can sit, stand or be placed in attitudes of leaping tall buildings in a single
bound. They're all American and all made in Hong Kong and Taiwan, but distributed jnternationally from a center on Long Island. Abrams' father, Marty, (Editor's note: the author meant to write David) founder of the business in 1952, runs the production end
of it in Hong Kong. His father,mother and brother are all in the business, but Martin is calling the shots.
That's because he's tripled sales in the past three years alone, to an estimated 180 million for the fiscal year just ending, and has multiplied earnings five times, to about $4 million. For all the flash and razzledazzle, Abrams says Mego hasn't overexpanded and is into stay. He says he's found a way to beat one of the main drawbacks of the business-copycatting— by signing up thestars long in advance and locking everyone else out"We're already negotiating for our 1977 line," he says.